Products tagged with 'helvellyn'
Helvellyn is a mountain in the English Lake District, and lies between Ullswater, Thirlmere and Grasmere and to the north of Ambleside. It's one of Wainwright's Eastern Fells.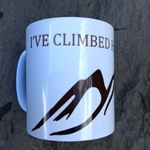 I've climbed Helvellyn in the lake District, this mug is the perfect present for a climber, tell us what Fell or mountain you have climbed and we will put it on the mug for you' a present that will always be used and remembered bright White, Straight Sided, Dishwasher safe, send as a gift, for Christmas, Birthday, or any other special occasion a quick and easy gift with a personal touch, Give a photo mug with their favourite photo on to enjoy with every cup of tea or coffee.
Helvellyn is the third highest mountain in the Lake District, the highest point of the Helvellyn range, a north–south line of mountains to the north of Ambleside, between the lakes of Thirlmere and Ullswater